As a small business, the vast options of free SEO tools to use in your marketing tech stack can become cumbersome.
The top three all encompassing SEO Softwares are Ahrefs, SEMRUSH, and Moz. These tools are all great choices, but what if you have little budget to spare on that premium SEO software? Luckily, there are actually hundreds of free SEO tools catered for small businesses that have no cost or use a freemium to subscription approach.
I have narrowed these 59 SEO tools into categories based on their use case in the my marketing/creation process.
5 Types of SEO Tools For Small Business Marketing
These tools have been personally tested on my own projects or used them with past clients.
1. ➜ Keyword Research SEO Tools for Marketing Your Business
2. ➜ Data and Analytics SEO Tools for Marketing Your Business
3. ➜ Content Optimization SEO Tools for Marketing Your Business
4. ➜ Link Building and Outreach SEO Tools for Marketing Your Business
5. ➜Technical SEO Tools for Marketing Your Business
I did not rank the tools below, but categorically organized them for specific SEO needs. Such as keyword research tools, technical SEO analysis software, data research engines, and outreach software for link building.
Here is an insider's secret, many features found in paid tools are also available for free — and sometimes all your business really needs is the free version.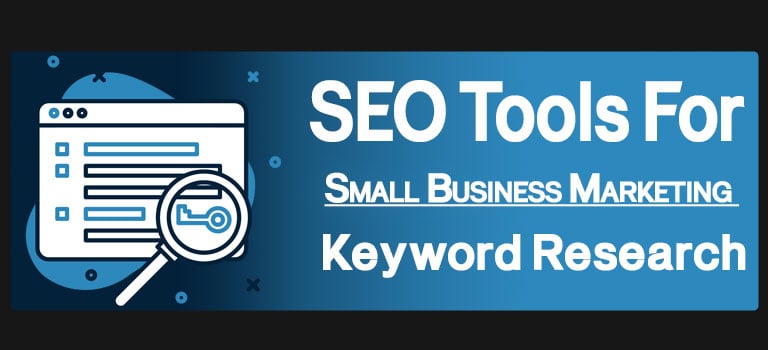 Free Keyword Research SEO Tools for Small Business Marketing
If you're in a hurry to get started on SEO, then look no further.
The suite of free tools provide by Ahrefs is one of the most resourceful for those operating on a budget. Whether it be discovering new keyword opportunities, spying on the competition, checking for broken links, or finding the latest backlinks.
Ahrefs offers it all (in moderation) for free. They also recently launched KWR for amazon, youtube, and bing.
When you first start creating your content strategy, finding easy opportunities come as "long-tail keywords". Enter a broad topic that has to do with your business into Answer the Public. This will give you questions (as how, why, where, and what) to answer when making a blog post.
To get the most use out of this tool, I recommend using the data tab (List Version) over the visualization (Bubble Chart Version) when viewing results. AtP is not just gathering ideas, you can also use for link-building.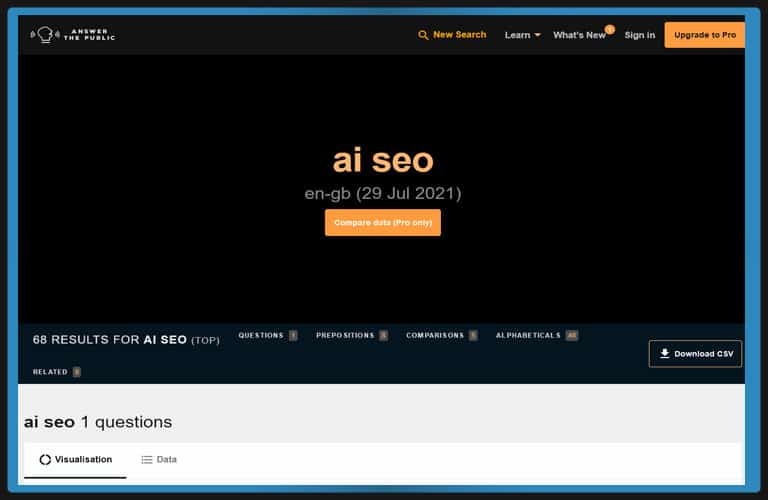 This service comes with a very generous 10-day free trial. Enough time to get all your keyword research done for your small business.
Compared to more complex tools, KW Finder has a straightforward UI & effortless to use, just like most SEO tools should be.
I started using ubersuggest before any other keyword research tool. Comparing the analytics of a few websites I worked on with data from ubersuggest shows only minor discrepancies.
This tool is easy to use and has accurate data for being a free tool. It's convenient for finding up-to-date backlinks, competitors' domain authority, and their top content ideas.
This keyword research tool comes in the form as a plug-in. It's easy to use and considered one of the industry best for finding related search suggestions (Especially in SERP).
6. The Reddit Keyword Research Tool By Keywordit
This tool is great for finding the opinions of ideal & real customers.
Just start by typing in the name of a subreddit below and pick one from the auto-generated list.
Then click "Get Keywords" to extract keywords from that subreddit. Subreddits with lots of comments have more keywords than those with little activity.
Remember, If the subreddit you're looking for doesn't come up in the auto-suggest list, then it might be too small (<10,000 subscribers).
Subreddits with lots of comments tend to have more comments than less active ones.
Keywordit lets you export the keywords and run them through a keyword volume tool of your choice. (For Free)
This keyword research tool is also used in the form as a plug-in. What gInfinity does best is organize individual SERPS from Google into one long scrollable single page.
To find exactly what you're looking for in this gInfinitys (nearly infinite) pool of data, use crt+f to conveniently locate information.
The biggest reason Topics by SEOMonitor made it on this list is its capability to identify SERP features, like specific types of featured snippets that turn up for unique keywords.
They bundled this unique SEO tool with game elements to make the minutiae of keyword research fun and simple.
Morning Score's game elements help you prioritize and allocate more resources on the tasks that are most profitable.
Compared to other SEO Tools, Morningscore is the most enjoyable way to help you make sense of SEO. (IMHO)
Your keyword research should be mostly evergreen, but a way for your business to boom is by riding the bandwagon of up-and-coming trends.
Using Google Trends helps in identifying the popularity of topics you're planning on covering in your niche and can act as an idea generator for finding the "latest and greatest".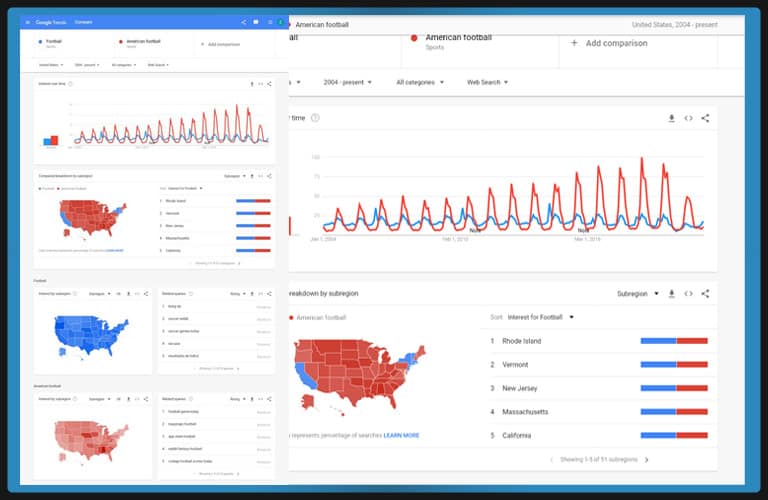 Another purpose of Google Trends is helping with keyword research decision making.
If you got two similar search terms and want to know which is the stronger fit. Compare them against each other to see which has been more historically popular.
(Google Trends can compare terms back to the year 2004)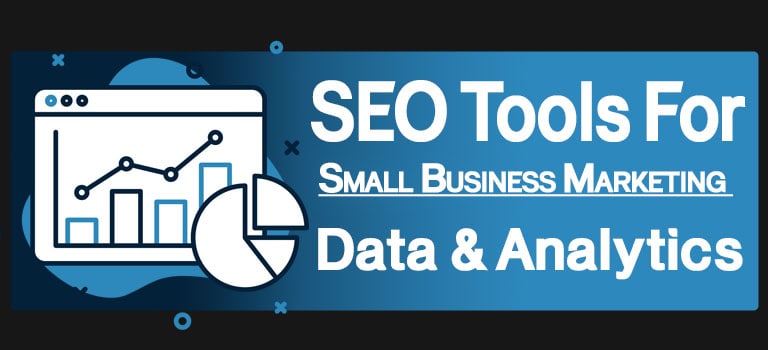 Free SEO Tools For Data and Analytics For Small Business Marketing
Having Google Analytics connected to your website plays a large part in improving your SEO.
This is because analytics help in keeping a record of your website's progress, demographic of users, and the variety of sources referrals.
The simple fact of the matter is with the volume of information accessible using GA makes this free tool a straightforward decision for any type of business.
The magic in GDA is how it allows you to get data from different sources to one convenient location. Like Google Analytics, Google Console, & Google Sheets can all be handled under Google Data Studio.
You can customize GDA reports and conveniently stage them to collaborators and/or clients.
Out of all of Google's free tools, I use this one the most for SEO work on my websites.
This is not only because I am a digital marketing dork, but also because Google Console helps us grasp the correlation between rankings and SEO changes.
Using Google Search Console helps in formulating new organic growth strategies and, if current practices are improving online visibility.
If you use wordpress and want all your data available in one place. Google Sit Kit is a plug-in to know about. It lets you view Analytics, Adsense, and Search Console within the wordpress hub.
After publishing a sales page, you might be curious about how visitors feel about your page?
The page analytics extension for the chrome browser is a free and fast way to get a better understanding of your audience. Things like how many interactions before converting the buttons they clicked, and length of time they scrolled down the page.
This is the best known free alternative to paid services like CrazyEgg. (IMHO)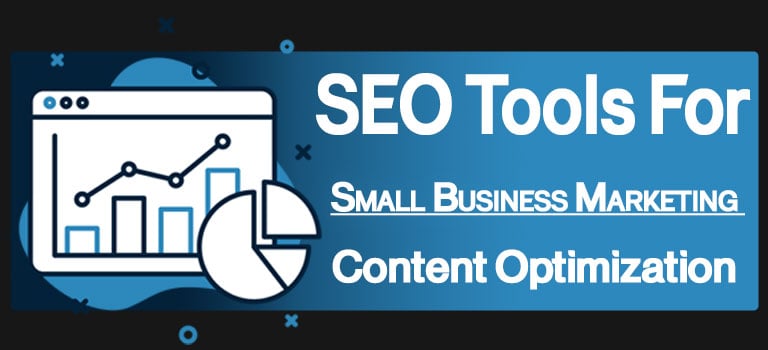 Free SEO Tools For Content Optimization For SM&B Marketing
With the free RankMath SEO plugin, you will receive recommendations to improve your content optimization. One of my favorite features is how you can change the schema of any page or post.
Using this tool over others like Yoast gives you a competitive edge with its powerful and easy-to-use features. Whether you are a newbie or an SEO elitist, Rank Math can take your website's SEO to the next level.
This extension is great for on-page optimization because of how useful the extensions explanations are to website revisions you make in terms of SEO.
This is another brilliant piece of software for on-page optimizations.
SEO Minion offers you a fresh pair of SEO eyes by identifying broken links, bad title tags, checking hflang, and proving helpful optimization suggestions.
If you plan on performing an SEO Audit to a site soon. SEO Quake is a quintessential on-page optimization tool for combing over external/internal links, keyword density, and more.
SERPsim uses "pixel perfect precision" to produce the most accurate SERP simulator and Google snippet preview tool available on the web..Also, its free!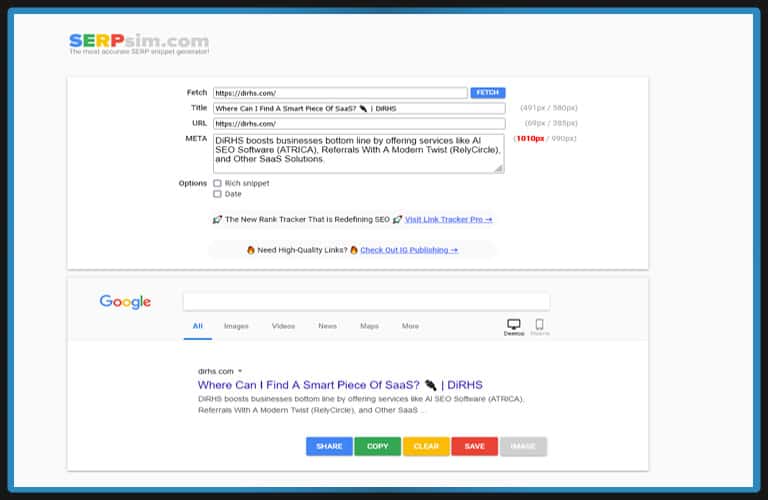 All you have to do is fetch title tag and meta description from an existing URL or you can create new ones from scratch.
SERPsim stays on top of the latest Google Algorithms (Cough, Cough, Like Atrica) and is designed to keep you within the current pixel length limit and alert you of any important issues.
This tool makes it easy to share,save, and copy a single snippet, or multiple in bulk.
This is a useful tool in the content creation process. It makes it easy to understand the optimal word-count needed for ranking with specific types of posts, SERPS, and keywords.
The amount of words in your content can make the difference between getting on top of page one or bottom of page two. Counting Characters is software that makes this process more efficient by keeping track of your contents word count.
We all know that a catchy headline = clicks. Increasing click-through rates plays a large part in obtaining new business.
Coming up with the trendiest headline is part art – part science.
CoSchedule Headline Analyzer is here to help you with the science part by assessing your contents, sentiment, readability, and length.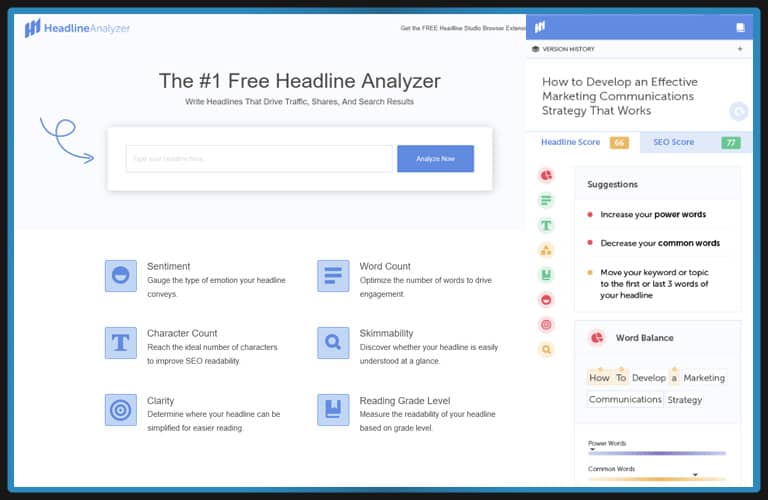 While the software above helps you choose the best title tag. Hemingway is a free to use app that is similar to Grammarly, but without the privacy concerns.
Making your content conscious and easy to understand is a ranking factor for Google. Hemingway ensures you are not grammatically incorrect or have too many run-on sentences, etc.
P.S. If you are serious about getting everything grammatically correct with your content creation, I suggest paying for ProWritingAid. It's something I use myself and even helped me write this sentence.
While the paid version of INK is worth the money.
Until you 're comfortable, try out the free version to help optimize your content. It offers writing recommendations, insight on user engagement, and keyword research suggestions.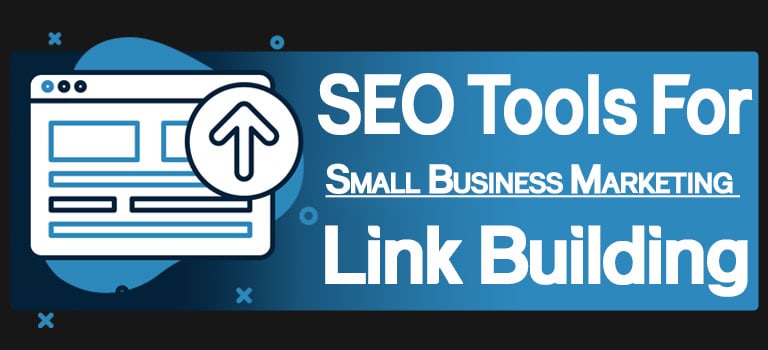 Free SEO Tools For Link Building and Outreach For Small Business Marketing
Having the Moz Toolbar setup in your browser is free with sign-up and offers a quick way to evaluate the SERP you're trying to rank.
Want to better understand the domain score of your competitors?
Using this toolbar lets you instantly figure out if you can outrank competitors on a targeted keyword.
Ahrefs take on the Moz toolbar, this free website authority checker helps you view the domain score for your website, or any.
This is useful when deciding or not you want to proceed with a prospective website in link building campaigns or to measure the gains from working on your own website.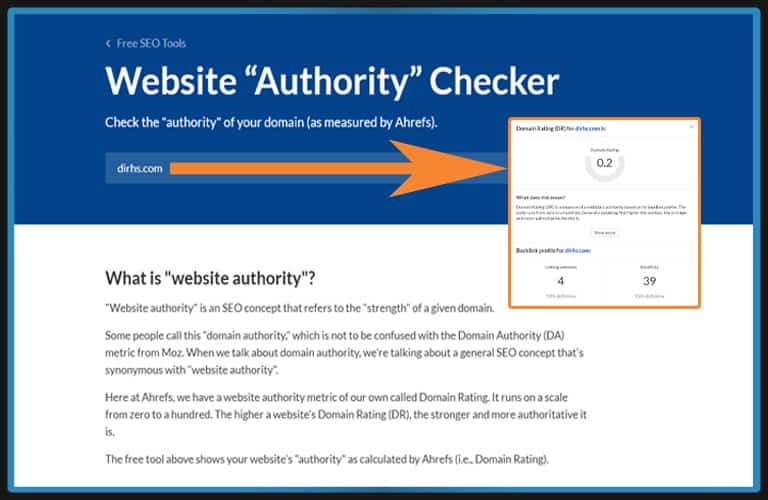 Using this extension makes it easier to recognize nofollow links on any page your browse because it highlights them in red.
Setting up a Google Alert helps with following trends on your niche topic, doing this is great for link building and content creation ideas.
You may've heard of "news jacking" and seen examples of it done in poor taste through twitter memes. Don't let that deter you from taking chances.
A small business can benefit from Google Alerts to stay up to date on local events and news so they can tailor upcoming sales and marketing campaigns to the spirit of the community.
For SEO purposes, verifying GMB is essential, especially for those old-school, well-established businesses that have a reputation to keep.
Luckily, it's very easy and very free to add your business with GMB. (Less Upsells Than Yelp)
After submitting your businesses contact information and linking your website. A great way to build future customers' trust is by showing actual pictures of your storefront and office.
Also, having at least 10 google positive testimonies is an appropriate goal to start with. If you're feeling ambitious, use GMB post feature to promote an upcoming event.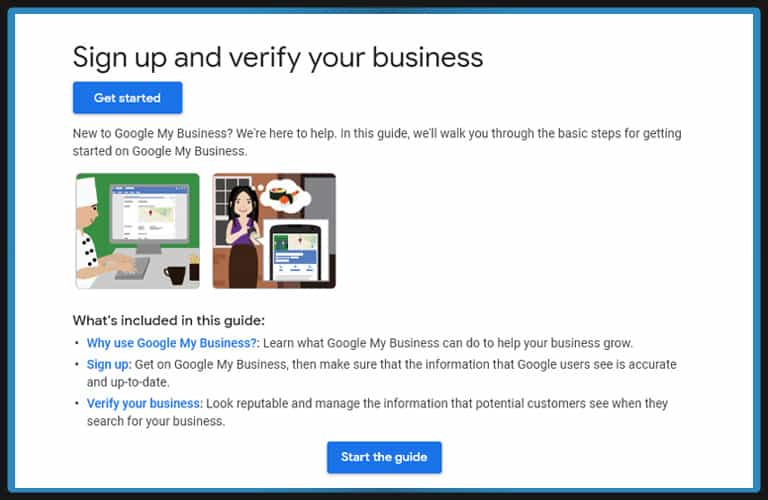 If you are an expert in your respective industry or have one on your team. HARO is a great way to build high-quality back-links.
What HARO stands for is "Help A Report Out".
Every day they send out emails with questions from journalist that need expert comments in their stories.
When you provide these professional comments, your website gets a link spotlighted in their article well suited to promote your business.
Not too far removed from HARO, JournoRequest equips you with a list of journalists that need professional comments. An easy way to get in on these opportunities is by following the hash tag '#journorrequest"' on social media.
Rocket Reach is an excellent way to discover prospect's contact details. The paid service starts at $50 per month annually, but using the free version lets execute a handful of searches per month for free.
34. Email Hippo – Email Authenticator
After discovering the email of a website that is an ideal fit for collaboration. Instead of sending out the email and wondering if it's landing in the right inbox. Using Email Hippo will ensure that beautifully written love letter lands in the legitimate address.
35. Hunter.io – Email Finder
This software is like Rocket Reach, but more well known.
It's available as a browser extension and lets you uncover up to 25 emails per month. It works on any website you visit and is great for B2B prospecting.
The Hunter.io website also provides you with a hub to search emails, domains authors, as well as verifying emails.
An additional feature they just released an add-on to help with lead generation, which is the ability to verify emails inside Google Sheets.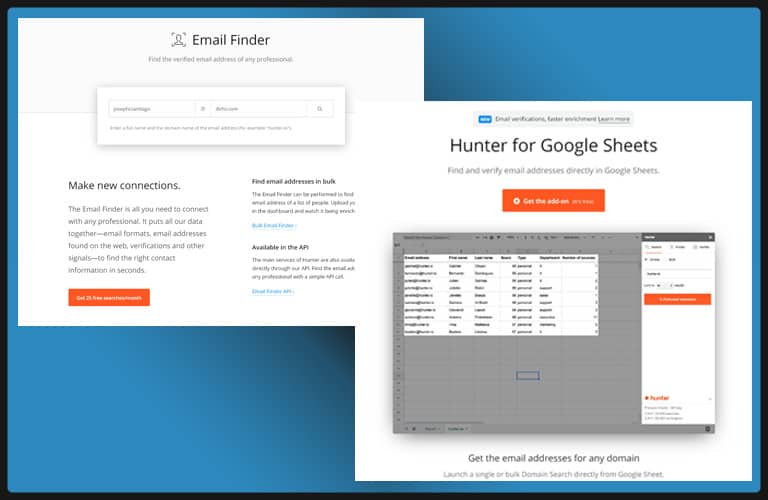 This piece of SaaS is so exceptional that it gets its own spot in this list.
What Mail Tracker by Hunter.io does is record whether your email has been opened and the number of times it's been studied. Knowing whether your email has been received or not is a timesaving way to know how interesting your pitch is.
The name says it all..
Using this tool makes finding broken links less of a hassle. It's available in a chrome plugin and combs through the pages you browse searching for broken links.
This is useful for searching through websites in your relevant niche. A broken link is an opportunity to pitch your businesses as a substitute, which also builds links.
Free Technical SEO Tools for Small Business Marketing
Using the Google rich results test empowers you to check whether your URL's schema markup properly configured.
If an error occurs, the checker makes it easy to identify precisely what it is. So, you start the steps to correcting the issue and your page shows up in the SERP as intended.
Using the Chrome Developer Toolkit helps you examine the code of your website and detected errors that might negatively affect SEO performance.
We find the best insights in the Lighthouse tab, where you can find actionable suggestions to enhance your core web vitals and page speed.
Using the AMP plugin for WordPress sets you up with a vetted configuration that Google crawlers approve of. AMP helps in automating the behind scenes processes and even presents suggestions to fix whatever is causing SEO issues.
There are plenty of free page speed test around, but Google's own tool is the go to for testing page speed and also comes with genuinely easy to understand and actionable suggestions to improve speed across all devices.
Similar to PageSpeed Insights, Google's Core Web Vitals makes it easy to understand your websites loading, visual stability of pages, and its interactivity.
You can also use this tool to measure your competition and get a better understanding on where your website ranks up against.
This tool offers a variety of tools all with one click.
GT Metrix will test the page speed of your website and break down the technical issues that are slowing it down.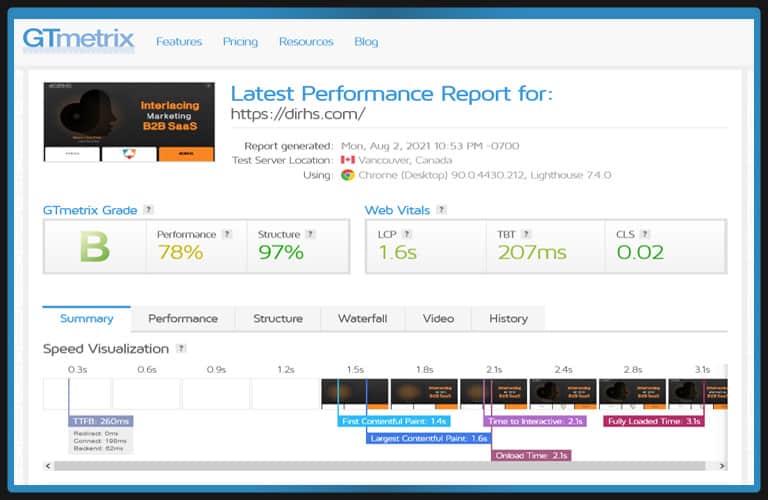 Unlike the other two mentioned above, Yellow Lab Tools (Pingdom) gives you the option of conducting test from far more regions. You can check your page speed from services in Asia, Australia, Brazil, Europe, & North America.
This is the third page speed tool I recommend because it gives you a more well-rounded view on page speed performance.
Fast or Slow is the self-proclaimed "new kid on the block" in terms of page performance report tools. It's built by WordFence, a security wordpress plugin.
The unique feature of this tool is that it records your page speed from 8 different locations. Whether you are a novice or expert at website optimization, their audits have helpful suggestions in an easy to digest format.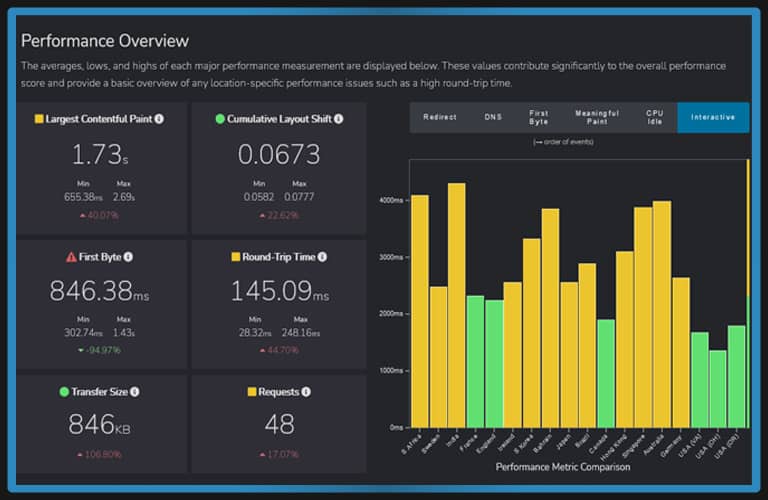 Page speeds tools are not just for checking the status of your website, it's a great resource for analyzing the competition. Finding out where your website stands in your niche can help with goal setting the shifting strategies.
PSC is a tool that picks up data from Chrome UX Report, Web Vitals plug-in, and Lighthouse reports and uses that data to create descriptive knowledge graphs.
The SEO Analyzer built by RankMath SEO lets you get a detailed report on your website. Shows what you have done correctly and where your pages are lacking.
This test is a good place to start if you plan on overhauling your website to resolve SEO issues. It's the easiest for finding SEO related issues on your website and offers actionable data to fix them before becoming a bigger headache.
Is there a widget or some special code that needs to get added into your WordPress site?
The H&F Script plug-in offers an easy way to include CSS and JavaScript code to any WordPress page.
49. Smush (WordPress Plug-in)
Over half of most page visits are from mobile devices, which usually have less than stellar internet connections for downloading large image files. Compressing images on your website is a straightforward process that improves page speed.
This key ranking factor (Page Speed) can improve your conversion rates. Smush makes optimize your images and turn on lazy loading, for example.
50. ShortPixel (WordPress Plug-in)
Similar to Smush, this tool is also a wordpress plugin that helps websites compress images.
ShortPixel improves website performance by resizing, compressing and serving images from a CDN.
You have a choice on which format to optimize images (Glossy, Lossly, or Lossless).
You can automatically convert png to jpg, upgrade to WebP or AVIF copies, and even optimizes PDF files.
I personally choose this plug-in over Smush because it offers onetime payment packages. Their cheapest package is 15,000 credits, which is around 15K images for $10. (Maybe I don't post enough images in my content, but I have not had to add on any credits in like three years.)
Local Search Results is one of six tools Merkle offers. It's ideal for local SEO, but can be utilized for international campaigns as well.
Instead hassling around with a VPN, Merkle Local Serach Results Tool offers a straightforward process into getting specific search results from different geographical regions.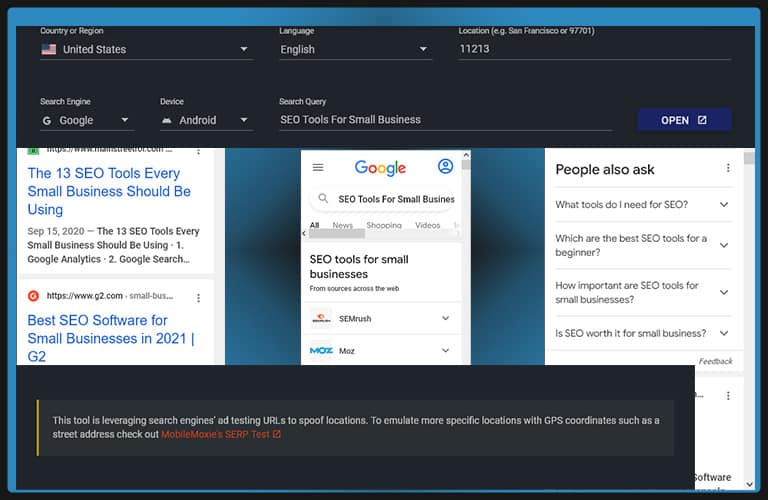 For international SEO campaigns, hreflangs helps businesses ensure their users are being directed to the right content according to their region.
Hreflang is a free to use testing tool makes it easy to quickly test if your websites hreflang tags are accurately implemented.
So you just found out that a competitor has outstripped your rankings, and you're unsure why?
As nice as it'd be to pop under the hood of your competitions SEO efforts, it's not possible.
The second best option is using the Wayback Machine to get a better understanding of the competition before out-ranking your website.
Doing this helps you spot keys differences to what has changed and the factors that may have boosted their SEO performance.
This tool is a blessing for when your website is facing crawling efficiency issues.
Screaming Frog Log File Analyzer offers a free version that can help you figure out which URLs are successfully crawled, and which URL's are being overlooked.
Screaming Frog Log File Analyzer is also excellent for identifying errors like broken links, missing headers, orphaned pages and other site structural issues.
Screaming Frog's SEO Spider tool is a paid tool that can let you crawl up to 500 URL's for free.
This generous number of crawls is more than enough for small businesses who are just starting to increase their digital footprint.
Conducting SEO Audits with this tool saves time with spotting website structural problems, such as missing key metadata, duplicate headers, and everything in between.
Not often used in SEO, Expired Domains is a great resource for when you're considering purchasing an expired or in use domain name.
Unlike brand new domains, expired ones can have a bit of history. Expired Domains is a database filled with virtually every expired domain and it's back-story.
Knowing whether the domain you have your eyes on has gotten penalized in a link farming operation or plastered with spam content can help you avoid wasting time and resources.
RDF Translator is a multi-format conversion tool for structured markup.
It provides translations between data formats ranging from RDF/XML to RDFa or Microdata.
Using this tool allows for conversions triggered either by URI or by direct text input. In addition, it comes with a straightforward REST API for developers.
This lightweight free and open-source SEO web crawler works across all operating systems (Windows, Mac, & Linux). It offers high-quality insights and analysis solutions that can be used for both small and large sites.
Greenflare is an exceptional SEO tool that has no restrictions on the amount of URL's crawls (Unlike Screaming Frogs 500 Limite)
BuiltWith covers 52,000+ internet technologies which include analytics, advertising, hosting, CMS and many more.
Find out how the internet technology usage changes on a weekly basis.With BuiltWith.com, you can track technology trends data back to November 2008.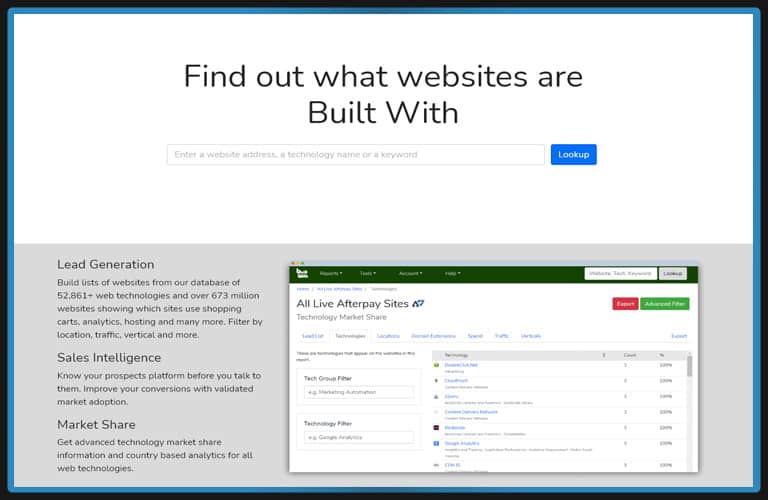 One of the newest All-in-one SEO tools on the market. It is also the software I've been using since the beginning of this year. It really has most of everything needed to perform key word research and manage rankings.
It offers website audits, back-link monitoring, real-time ranking positions of your website's keywords across major search engines. It makes tracking your rankings on a country / region / city level as customizable as you want.
"No matter if your small business focuses on local search dominance or snipes for search term specific. Both require strategy, content optimization, & authority building to stay on top of page one."

Joseph C. Santiago | DiRHS
What Piece of SaaS Out Smarts Every SEO Tool?
ATRICA is a technical ranking algorithm for SEO and a true world-first. There is, literally, no other SEO software on the market that has the same functionality or benefits.
Don't dismiss ATRICA as "just another SEO software" like the 50+ listed above.
How is AI SEO Different?
Unlike humans, AI costs less, operates 24/7, and it's unaffected by human error.
Best of all, AI constantly improves on its own intelligence by monitoring and optimizing its algorithm. This means the longer you use ATRICA, the better the AI performs for your website.
ATRICA AI truly is a game-changer, far ahead of any other SEO tool on the market. Not one of these tools listed above offers its game-changing functionality:
Making keywords immediately visible to Google's search.
Communicating directly and proactively with Google to guarantee top SEO ranking.
Provides immediate proof of value by reducing workload.
Delivers a demonstrable return of investment in as little as 6 months.
Finds keyword opportunities and automatically implements them to improve rankings.
If you have ATRICA, then you have the strongest SEO tool on the market, all others simply enhance or analyze this software's performance.
Not that using these other listed SEO tools for support and analytics is no longer beneficial. Eventually, these tools will be needed to complement ATRICA AI, either as analytics or support tools.