Creating a small business SEO marketing stack can speed up operations, ensure accurate data, and automatically manage marketing operations with less human oversight.
If you don't measure SEO, then how can you improve upon it?
Before you starting SEO for your small business's website. It's strategic to have at least a basic understanding of website reports before setting up a stack and implementing changes.
Why? Because knowing the basics will make everything easier when you're ready to hire outside help to strengthen your small businesses web presence.
Understanding the basics also helps in identifying signals for security loopholes, misconfiguration, and other search engine ranking issues in your system.
What to know before starting local SEO small business marketing software stack?
A Local SEO audit specialized for small businesses acts as a compass directing future marketing strategy toward long-term success.
If search engines cannot find your website, then that potential customers won't be able to.
Building your business's web presence off google requires a comprehensive analysis that is developed using a small business SEO marketing stack.
These tools are essential for conducting local SEO audits and finding out what needs to be done to drive up online visibility. They can provide you with lucrative keywords, proximity results, and other ranking factors to put your small business in the top position on popular search engines like Google.
How To Use Automation For Faster Results In SEO?
You don't have time to wear another hat! Setting up automation processes makes marketing quicker and easier to delegate. We can efficiently outsource some, like keyword research, compared to others that require more company trust, like evaluating confidential analytical data.
It might be hard to distinguish the differences with the plethora of tools to choose from, but you only need 5 types SEO tools to run a successful marketing strategy that carries your page to the top of customer's search results.
There are 5 categories of small business SEO marketing stack help different parts of the customer funnel.
1. ➜ Keyword Research SEO Tools for Marketing Your Business
2. ➜ Data and Analytics SEO Tools for Marketing Your Business
3. ➜ Content Optimization SEO Tools for Marketing Your Business
4. ➜ Link Building and Outreach SEO Tools for Marketing Your Business
5. ➜Technical SEO Tools for Marketing Your Business
I discussed 50+ free SEO tools in a separate post, so below is an example of a basic small business SEO marketing stack to help meet the searchers intent, fix crawling issues, monitor competitors, and expand organic reach.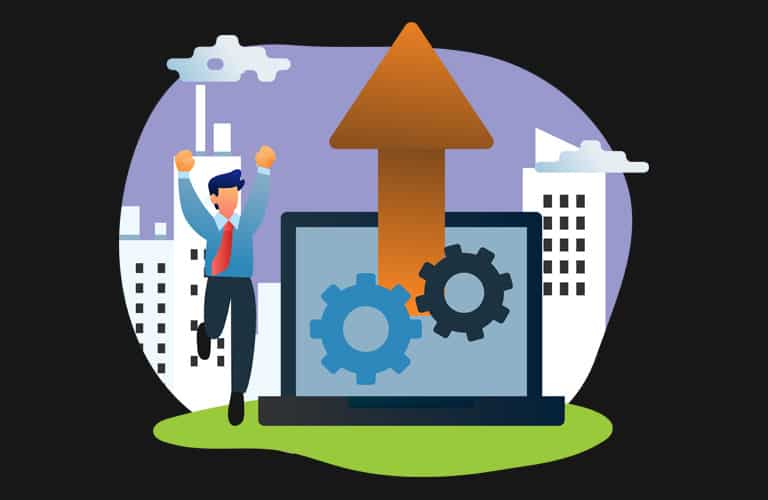 The Best SEO Tools Stack For Auditing Local Small Business
Small Business SEO Marketing Stack | Starter Kit
Hiring someone to audit your website for SEO ‌can get expensive, especially if the fixes are minor and easily fixable.
That is why I recommend this tool. MorningScore uses gaming elements in their services that make fixing website issues, starting keyword research, and performing competitive analysis easy to digest.
Morning Score's twist on SEO SaaS helps you prioritize and allocate more resources to the tasks that are most profitable.
Compared to other SEO Tools, Morning Score is a very "newbie" friendly in a way that it educates you on SEO best practices. (IMHO)
Out of all of Google's free tools, Google Search Console followed by Analytics are the most useful when managing SEO on the websites I work on.
This is not only because I'm a dork for digital marketing but also because Google Console combined with Analytics helps us grasp the correlation between rankings and SEO changes.
Using Google Search Console + Analytics helps in formulating new organic growth strategies and if current practices are improving online visibility.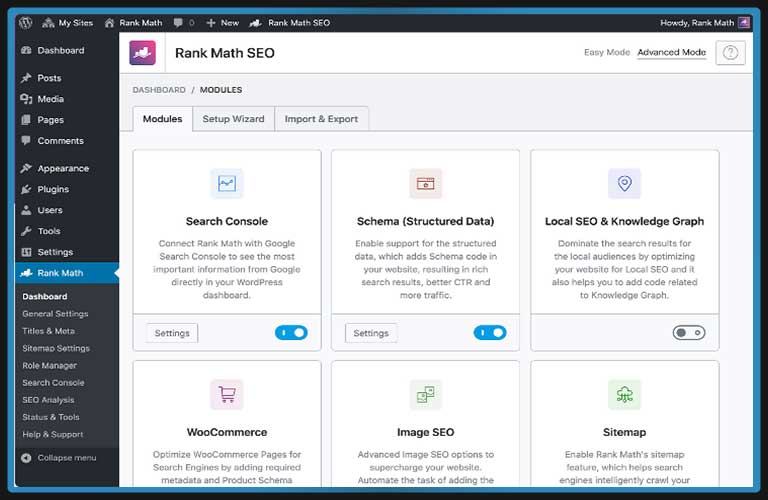 RankMath SEO is a wordpress plugin that offers more than you need in its free version.
Using this plugin gives you on-page SEO recommendations to help improve your content optimization.
One feature this plug-in has that other popular SEO plugins do not offer is the option of conveniently changing the page schema of any page or post.
Instead of other notable SEO plug-ins like Yoast, this tool gives you a competitive edge with its powerful and easy-to-use features. Whether you are a beginner or an SEO veteran, Rank Math is a service that takes your website's organic reach to the next level.
Any site using wordpress, this is a straightforward top pick in the small business SEO marketing stack.
To get SEO success as a small business on Google nowadays, verifying GMB is essential. This goes double for those old-school, well-established businesses that have a reputation to keep.
Luckily, it's very free to add your business with GMB and only takes a few clicks. (It also Has MUCH LESS Upsells Than Yelp)
All it takes to set up is linking your website and verifying your businesses contact information.
Try to get your best customers to review your business within the first month.
This will help bump up your placement in Google's search results. Having at least 10 google positive testimonies is an appropriate goal to start with. If you're feeling ambitious, use the GMB post feature to promote an upcoming event.
A great way to build future customers' trust is by showing actual pictures of your storefront and office.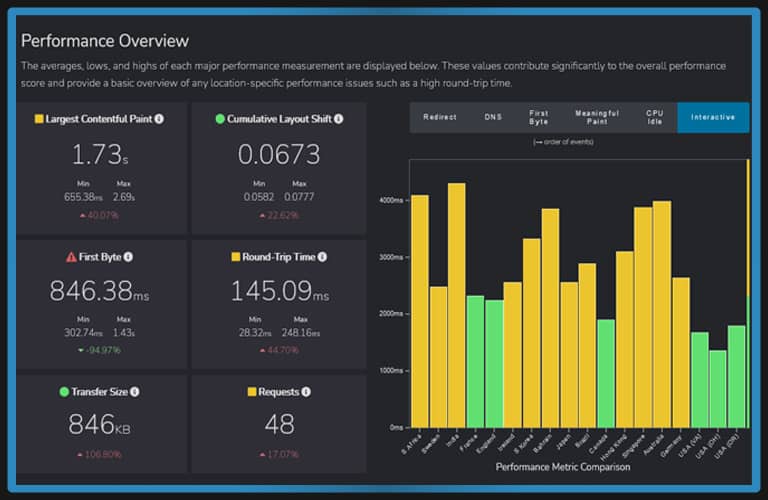 Fast or Slow By Wordfence For Testing Website Page Speeds
In terms of page performance report tools, Fast-or-Slow is the self-proclaimed "new kid on the block" . Built by WordFence, a security wordpress plugin, I recommend this over the competition because of the variety of locations the site tests from.
It records your website's page speed from 8 different locations.
Whether you are a newbie or a know-it-all at website optimization, Fast or Slow audits have helpful suggestions in an easy to digest format.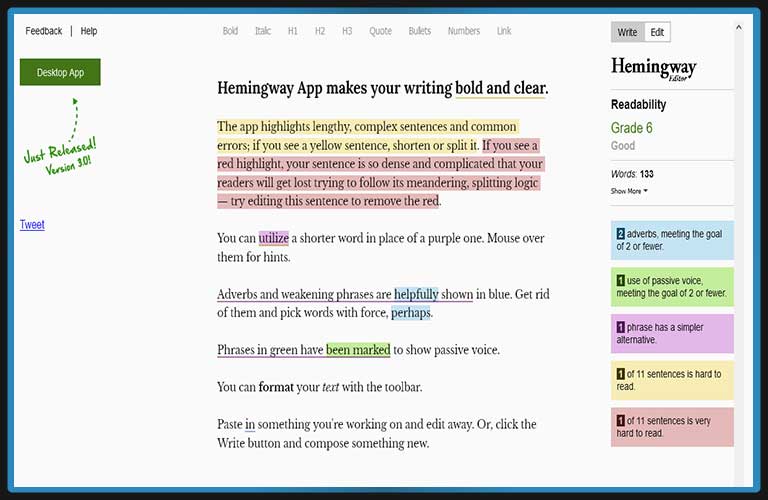 Hemingway For Checking Grammar Mistakes In Content For SEO Campaigns
While the software above helps you choose the best title tag. Hemingway is a free to use app that is like Grammarly, but without the privacy concerns.
Making your content conscious and easy to understand is a ranking factor for Google. Hemingway ensures you are not grammatically incorrect or have too many run-on sentences, etc.
If you're looking for a single piece of SaaS to manage the basics of SEO, then look no further!
Ahrefs offers a resourceful suite of free tools for those operating on a budget while establishing a small business SEO marketing stack.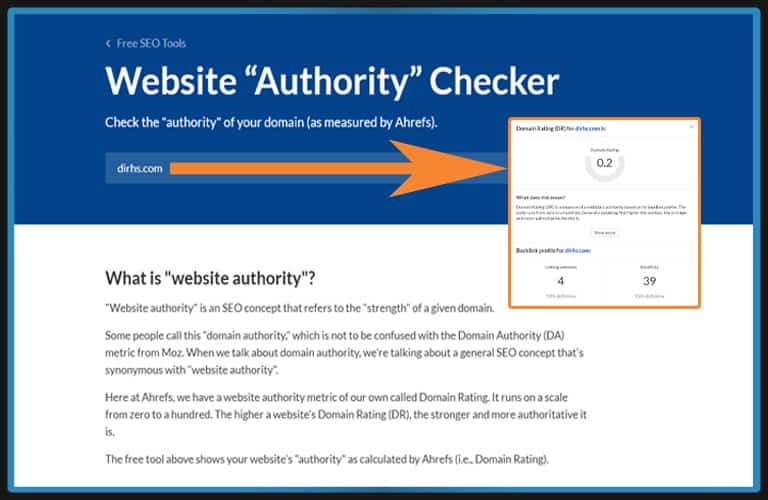 Whether it be identifying new keyword opportunities, peeking on the competition's strategy, discovering broken links, or finding the latest backlinks. Ahrefs offers it all (in moderation) for free. They also recently launched KWR for amazon, YouTube, and bing.
Wrapping Up SEO Marketing Stacks For Small Business
The goal of SEO for small businesses is to be the customer's first choice in their search results.
Small website tweaks implemented via a local SEO audit create big ROI in time spent marketing and resources spent per sale. (Both In-store & Online)

Carrying out a local SEO audit requires a stack of marketing tools to troubleshoot and identify solutions. You might expect this will involve expensive software, but here is a list of free tools that can get you started.
Successful Small Business SEO Marketing Stack includes tools that cover these five categories. Each supports specific stages in the creation process and managing of your small business website's customer funnel.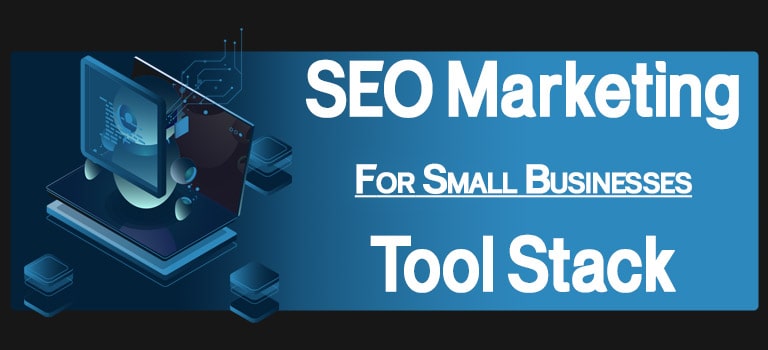 Technical SEO Tools for Marketing Your Business
Software that combs over websites for technical bugs and security issues.
Data and Analytics SEO Tools for Marketing Your Business
Software that monitors website visits, gather analytics is crucial for making future decisions.
Keyword Research SEO Tools for Marketing Your Business
Software that helps you identify search term opportunities and keep track of competitors.
Content Optimization SEO Tools for Marketing Your Business
Software that gives offers on-page SEO insights to improve rankings and user experience.
Link Building & Outreach SEO Tools for Marketing Your Business
Software that makes it simpler to find and connect with other websites for building links.
There is not a single tool for everything (yet), so creating a digital marketing utility belt is the next best option for your business.
Can Local SEO Audits Help Boost Small Business Future Earning?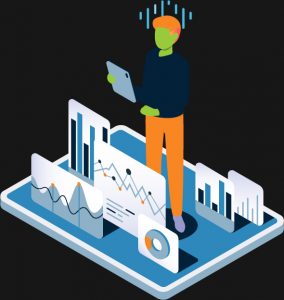 The goal of getting on Google is to be positioned at the primary position, but ranking in the top three is a win for most small businesses. 
When SEO gets set up properly, it also gives small businesses a more insightful view of their website's reach, referrals, and the rankings that contribute to lead generation.
This is because the lion's share of searchers find what they're looking for within the top three results.
You've probably browsed across the Google Three-Pack before. It is a schema for GMB listings that is found alongside a map of the searchers' location.
Using local SEO audits to find fixable issues will help your business get seen on the coveted Google Three-Pack.
A Word of Caution
I might be in the minority here, but I enjoy getting into a new piece of SaaS. I spend the first few days going though all the settings and features, however sometimes I neglect to implement them in any worthwhile manner.
A past example of this is the purchase of two different quiz plug-ins for websites I manage. My initial idea was to create lead magnet using quizes to point visitors to specific pieces of content.
Exactly what I stated above happened, and those quizzes are yet to be made. So stay vigilant on not adding too many tools to that small business SEO marketing stack of yours.