We both know searchers will skim over ads and find what they are looking for through organic results. It's because these type of results are a more trusted resource compared to paid search ads.
In fact, nearly 4 out of 5 people using search engines ignore paid ads and scroll through to the organic results. (Source: NewMediaCampaigns)
There has to be a more efficient way for marketers to operate their SEO?
In this edition, we cover AI tools for SEO , ATRICA being the world's first AI in development, put's in a league of its own.
This ongoing shift towards AI is a fundamental change for competitive industries that are required to monitor and one-up their competitors.
From the bottom of page irrelevant to top of search result on google, ATRICA is all set to replace the minutiae of search engine optimization.
Data Entry (Schema, Meta, ETC)
Indexing Pages That Randomly Require Re-Indexing
Finding New LTK That You Never Knew Existed
Optimizing OTK So You Are Always On Top Of Your Competitors
Fixing Hard To Find Errors
Updating For Google's Ever Changing Algorithm (In Real Time)
No other SaaS currently provides a quicker or more intuitive way of handling Google's search algorithm.
Using AI SEO Tools Reduces Client's Workload:
How AI Fuels Intelligent SEO Processing
Traditional SEO processes require manual efforts to capture and extract relevant information from a variety of sources like keyword research, search engine results, and on-page optimization software.
Whereas ATRICA AI will automatically identify, capture, and extract valuable metrics from continuously scanning changes in queries, while reacting to Google's 200+ ranking factors.
It's always a step ahead of even the most diligent of SEO professionals to move this captured data into existing pages for seamless integration.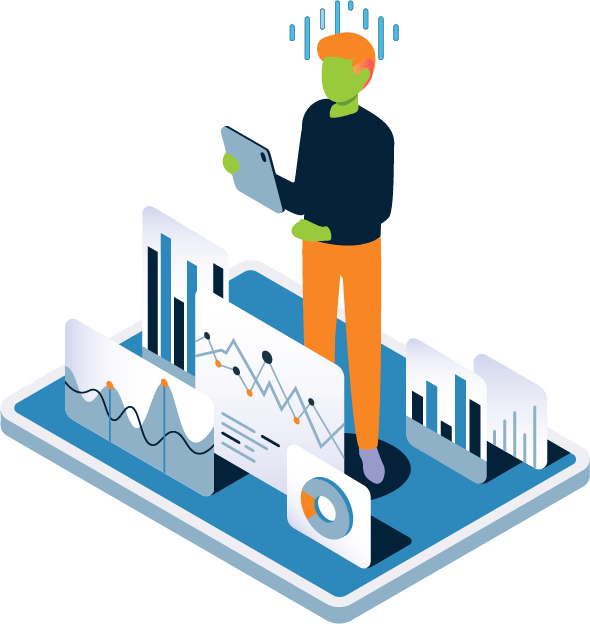 It's Widely Known That Traditional SEO Take Too Long To Show Results
On average, a new website that is not yet out of Google's elusive sandbox can take between 6 – 8 months before ranking for a desired keyword.
That is, if the keyword is not a competitive search query and the website is doing everything correctly. There are so many moving factors, it's hard for one person to keep track of.
Larger operations in sync (Like Marketing Agencies or Digital Media Conglomerates) will always be one step ahead of your less resourced website, but AI SEO will always be one step ahead of them!
(Speed Things Up With ATRICA AI SEO)
AI SEO never takes a break and is working 24/7 to get an edge over even the bigger players in your respective industry.
Not having to worry about your top sales page from being re indexed or changes in google's algorithm will give you more time to focus on more important business needs.
AI Tools For SEO Provides Clients With Immediate Proof Of Value
Understanding the never-ending changes in SEO and adapting to them on the fly creates a Tetris amount of mental blocks for your marketing team.
Using AI SEO makes their job less stressful and allows them to operate in clear head space, which is essential for coming up with creative strategies.
Using AI SEO Tools Slashes Clients' Operating Cost
Businesses can spare little time to spend on the minutiae website optimizations.
AI Tools For SEO Delivers A Demonstrable Return Of Investment
According to a survey conducted by the Content Marketing Institute. Nearly 9 out of 10 businesses are using blog posts, or brief articles in their marketing strategy.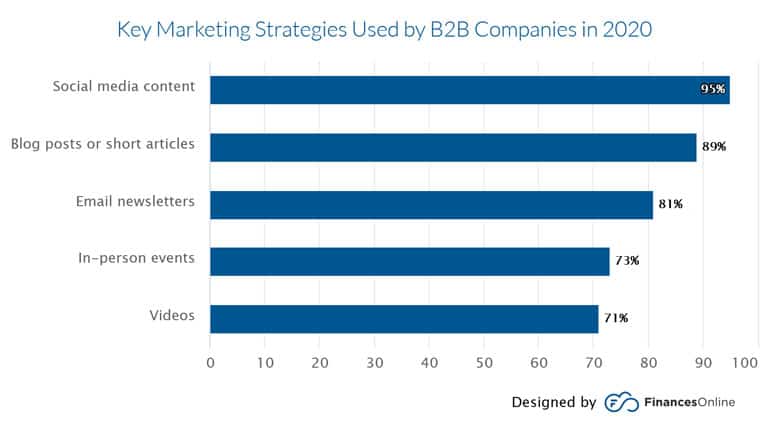 This means the competition for ranking at the top of Google search is only going to become more challenging and all those resources put into developing content brings in less ROI.
SEO Year Long Case Study By Industries
ATRICA AI has a demonstrable return on investment and has proven that with case studies in a variety of industries.
E-Commerce (PDF)
Coaching/Consulting (PDF)
Construction (PDF)
Health Care (PDF)
Real Estate Agents (PDF)
Law Firms (Coming Soon)
E-Commerce Case Study
The Challenge
With an existing brick-and-mortar distribution system, Aronialand is by no means a new company, but it was fairly new to the highly competitive health & nutrition e-commerce market.
As such, Aronialand needed to position itself top-of-search as both a producer of Aronia berries and an online distributor of these health & nutrition products.
The Result
Within 3 months ATRICA ranked 60 highly specific keywords on Google Page 1, resulting in Aronialand achieving top ranking in the hugely competitive health & nutrition online marketplace.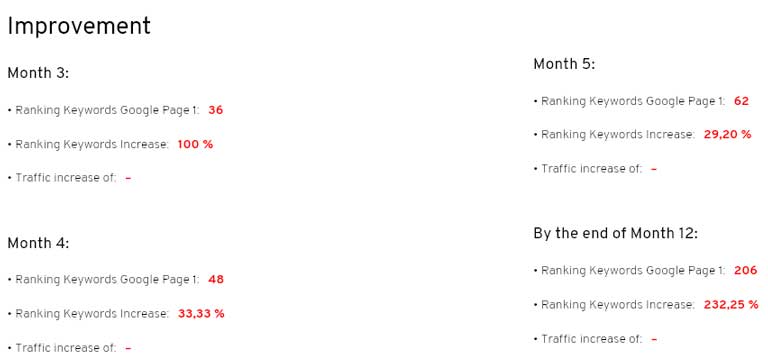 ATRICA's Performance and Solution
"It was important for us to try a different approach to SEO because we simply were not getting anywhere with traditional SEO due to major competition, coupled with Google Ads becoming too expensive and therefore unsustainable. We only expected to see results after around 6 months, so we were extremely surprised by how quickly ATRICA worked to deliver top Google rankings."
– Alfred Glarcher (Owner)
Coaching & Consulting Case Study
The Challenge
The personal and business coaching sector in Europe has exploded in recent years, leading to heavy online competition. In addition to achieving top ranking for generalized coaching services, IPU Coaching needed to achieve Google Page 1 SEO for keywords relating to its niche target audience, both in terms of personalized services offered and localized service areas.
Outsourcing SEO to an agency or hiring an SEO expert in-house was simply not an option for IPU Coaching due the high cost. And of course Google AdWords for the saturated health & nutrition market are highly bid upon, making the cost of PPC (pay per click) advertising unattainable. IPU Coaching had hit a major obstacle in its digital marketing, until they found ATRICA.
The Result
In just 4 months ATRICA ranked IPU Coaching for both generalized coaching services as well as for specialized services at a local level.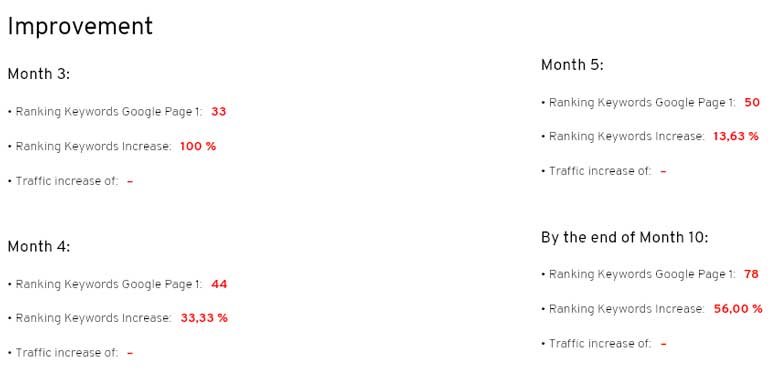 ATRICA's Performance and Solution
"We know from how difficult it is to get top of page organic Google ranking in our industry, as we had been trying ourselves for some time without much result. With ATRICA we thought we had a real chance and, as early adopters of the software, we also hoped for a competitive advantage. Mission accomplished!"
– Clemens Adam (Owner)
Construction Case Study
The Challenge
SI Tech Hanau is a construction company specializing in fences and terraces, which previously only offered localized services in Hanau, near the metropolitan region of Frankfurt, Germany. The company's business plan set goals to expand services to the surrounding areas of its traditional base of Hanau and relied on its new website to do so.
The initial difficulty was that SI Tech's website was a new-build, which means ATRICA takes a bit longer to get keywords ranked. In addition, SI Tech's internal staff had no SEO knowledge or experience, therefore they required additional assistance to set up the software in terms of selecting relevant keywords, etc.
The Result
Through a process of elimination (selecting keywords, monitoring and adapting), the right keywords were selected and within just 4 months SI TECH Hanau's website had more than 40 top keywords ranked. Today, the website has more than 90 ranked keywords on Page 1 of Google search, and counting.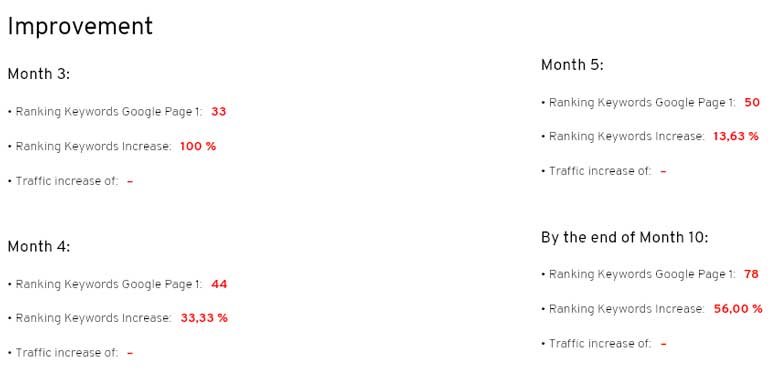 ATRICA's Performance and Solution
"It took some time to settle in as internally we are not experienced in SEO and depended heavily on assistance from the ATRICA team. We are extremely grateful for all their assistance because it has resulted in Google rankings that we are more than happy with."
– Claudia Schilling (Owner)
Health Care Case Study
The Challenge
As a business operating in the highly competitive private healthcare sector, Sencurina's goal was to be top-ranked for local searches in multiple areas within Germany.
The company also wanted to reduce its reliance on Google Ads as a driver of traffic as PPC (Pay Per Click) was becoming prohibitively expensive. As a related secondary goal, Sencurina wanted to rank well in major city searches so as to reduce the risk of larger competition outbidding it on Google Ads.
The Result
After 4 months of using ATRICA Sencurina gained top-ranking for top related keyword searches for both small and large cities, resulting in an increase in website traffic and inquiries, while also enabling the company to bid on Google Ads at sustainable rates.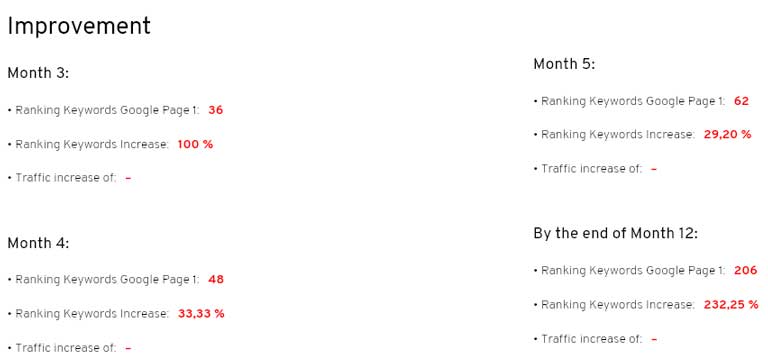 ATRICA's Performance and Solution
"We were amazed by the number of keywords ATRICA got ranked on Google page 1 in the first year alone and, thanks to this positive development, we were able to place ourselves in every location in Germany with at least 2-3 of the most important keywords for our business."
– Uwe Meinken (Owner)
Real Estate Case Study
The Challenge
As a real estate group with branches in 10 locations across 5 regions in Germany, Königskinder's website had to be optimized to be top ranking for all 3 of its strategic operations:
1. As a real estate agency group with a countrywide footprint (national).
2. As a franchisor offering real estate franchise opportunities across Germany (regional).
3. For existing franchisees operating in various regions (local).
This required selecting and optimizing keywords for a range of diverse target groups on three search levels: national, regional and local.
The Result
Within 6 months ATRICA ranked 120 keywords on Google Page 1 for national, regional and local searches. This ensured Königskinder was: top-ranked as a real estate group with a national brand; top-ranked as a franchise provider across regions; top-ranked for localized real estate searches.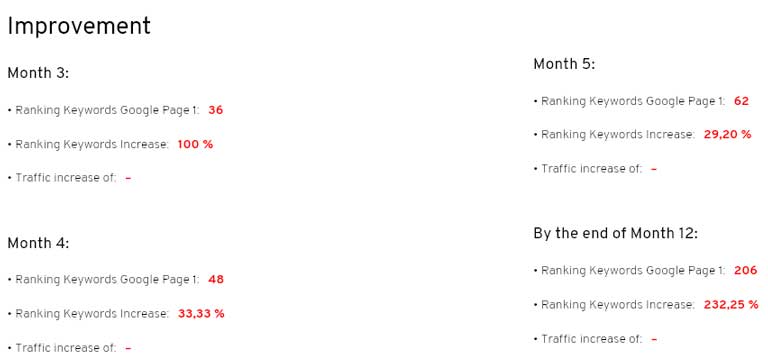 ATRICA's Performance and Solution
"We didn't initially believe that the software would be able to achieve actual rankings without our intervention. After only 3 months we were convinced otherwise and are more than satisfied with the results."
– Leon Djolaj (Owner)
Signing Up With ATRICA AI SEO Software Is Backed By A Guarantee
If you have been around for long enough, then you have probably heard someone in SEO say "It Depends".
They are usually talking to their boss, client, or prospect about how long X will rank for Y.
This is because successful SEO requires a little art and a bit of science.
(That and being in the good graces of Google.)
Using the next generation of SEO Tools like ATRICA offers a 6 month road map to the top of search.
During the on-boarding process, the marketing team at Smarttools24 will help you determine the best course of action to get your website in front of the target audience.
ATRICA AI: How The World's 1st SEO Software Driven Artificial Intelligence Improves Organic Reach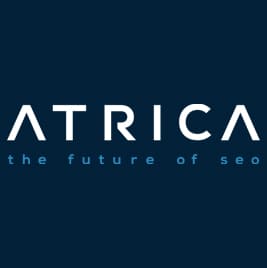 As the world recovers from a deadly virus, technological advancements are more required to make up for lost time by speeding up results & alleviating bottlenecks.
ATRICA Software harnesses the power of AI and the marketing experts at Smartools24 make it easy to understand complex search engine optimization processes.
Adopting Intelligent SEO software is a competitive edge now, but will be a requirement soon, for the 5 following reasons:
Reduces clients' workload.
Guarantees clients top SEO ranking.
Provides clients with immediate proof of value.
Slashes clients' SEO costs.
Delivers a demonstrable return of investment.